KALES.  In 1212, during the Venetian Occupation, started the construction of the castle of the port of Ierapetra, called Kale. The construction was supervised by the Genoan pirate Pescatore. In 1508, a terrible earthquake cause extensive damage to the castle. The Turkish raids to the city made things even worse, but the Venetians didn't have the necessary money to restore the damage done to the fort. Ierapetra fell to the hands of the Turks in 1647, when reconstruction works began for Kale. The name Kale is derived from the word Koules, which means tower in Turkish. Kales is open for the public during the summer too, when it hosts different kinds of musical events and shows.
.
.
THE MUSLIM SHRINE. Near the old city's port, lies the Muslim shrine with its minaret. Right besides it is a beautiful faucet of Muslim art. The shire is open to the public, although reconstruction works are underway for the roof and for the interior. On the upper side of the entrance, you can see an inscription from the Koran. The shrine was built in the late 19th century.
.
.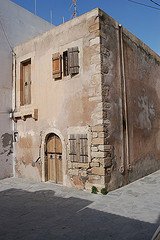 .
NAPOLEON'S HOUSE
. When Napoleon Bonaparte campaigned against the Mamalik in Egypt in July 1798, he anchored his fleet outside of Ierapetra. Napoleon himself stayed with a local family for a night. The family didn't know who they were hosting. The next day, Napoleon leaving, left them a note that said: "If you want to you know who your stranger was, learn that I am Napoleon Bonaparte." That house has been preserved until today and its traditional decoration has been kept the same.
.
.
.
.
.
.ARCHEOLOGICAL MUSEUM. The archeological museum of Ierapetra is located at the Kanoupaki square. The building in which it's hosted, was built in 1899 and used to hold the old Ottoman School, Mechtepi. The exhibits of the museum cover the period from the Minoan era to the Greek-Roman years. Among other exhibits, you can find: statues, sarcophagi, urns, lamps, idols and various inscriptions. The most important finding is the statue of the veiled goddess Persephone, who was goddess of Ierapetra.
.
.
.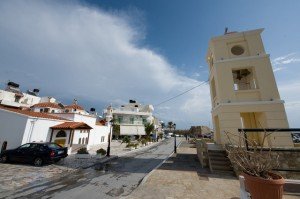 .
.
CHURCH OF MASTER CHRIST (ECCLESIA TOU AFENDI CHRISTOU). The church of Master Christ (Afendis Christos) was built in the 14th century. It's the oldest church in the city. In this church, the residents of Ierapetra burn Judas every Easter. If you happen to be here during the days of Easter, you must not miss this impressive ritual. Of course, this ritual happens in almost all the villages of Lasithi and the rest of Crete.
See also..