Scuba diving, whether it's performed with the appropriate equipment or not, is an activity that can be compared to no others. It offers the diver an amazing experience and reveals to him a whole new world, with completely different rules than the one they're used to, where strange life-forms exist, like weird seaweed with rich coloring patterns, and where gravity somehow does not exist.
The prefecture of Lasithi with its 44 beaches awarded with the blue flag (the most in Greece), possesses a rich and virgin depth, good enough to satisfy all divers. The main element that makes it stand out, is the amazing clarity of the water, that can reach a depth of 25-30 meters. You will see shipwrecks and crashed planes, caves, sunken ancient settlements (Mochlos, Itanos), endless posidoneas and a great variety in underwater wildlife.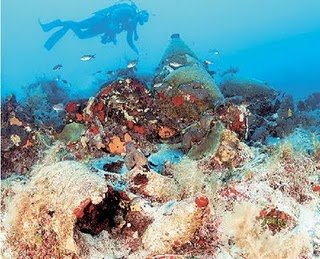 The areas worth diving in are in the hundreds and there's no point in mentioning them. Local diving facilities will guide you through the best depths. We have to note that based on our experience, the richest depth is in the area of Palecastro – Xerocampos, in Elounda, Dionisades, Gaidouronisi and Koufonisi.
The prefecture's diving facilities are located at:
1.         http://www.happydivers.gr/ in Agios Nikolaos
2.         http://www.creteunderwatercenter.com/ in Agios Nikolaos
3.         http://www.divecrete.com/ in Agios Nikolaos
4.         http://www.crete-web.gr/diving/dive-bluedolphin/index-1.htm in Elounda
5.         http://www.scubadream.gr/ in Ierapetra
7.         Universal Diver in Sitia. Phone Number: +30 28430 29138 pavlossimos@yahoo.gr6.         http://www.vaidiving.com/index.html in Sitia