Chrissi, also known as Gaidouronisi, is a beautiful little island, 8 miles south of Ierapetra, in the Libyan sea. Chrissi is still preserved to be virgin and that's why it's a favorite destination of those who respect nature and love calmness, clean beaches and blue-green waters. The island is covered for the most part in cedar trees, and has been included in the European protection program for landscapes of natural beauty. (NATURA 2000)
WHAT YOU WILL SEE
In Chrissi you will see the 13th century church of Agios Nikolaos, an old salt flat, wells and carved tombs of the Roman era. The island has been active since the Minoan era. What really makes the island a favorite destination for visitors is the abundance of sandy beaches and crystal-clear water. If you enjoy sunbathing and swimming, we assure you that you'll have a great time. In the port of the village, you can find a canteen-bar-restaurant. The most beautiful beach of the island, Belegrina, is located on the north side of the island. To reach it, simply follow the trail through the sand-hills and you'll be there in 7-10 minutes. You can find a small beach bar there as well. The recliners-umbrellas are quite expensive (10 euro for 2 recliners!) but the beach that's filled with seashells and the color of the sea will even things up.
If you have the time, it's worth to take a walk at the surrounding sand-hills and at the cedar forest. The island is just 5km long, so it won't be hard to explore. As far as free camping is concerned, even though it's prohibited, quite a few people set up their tents amongst the cedar trees.
HOW TO GET HERE
Every day you can find 2 routes with a boat from Ierapetra to Chrissi and back. The routes are as follows:
10:30 Ierapetra – Chrissi
12:00 Ierapetra – Chrissi
17:00 Chrissi – Ierapetra
18:00 Chrissi Ierapetra
The ticket costs 25 euro and it's a return ticket. The duration of the ride is approximately 1 hour. It's important to not miss the return boat, since the island has no means of accommodation, so you'll have to sleep outside!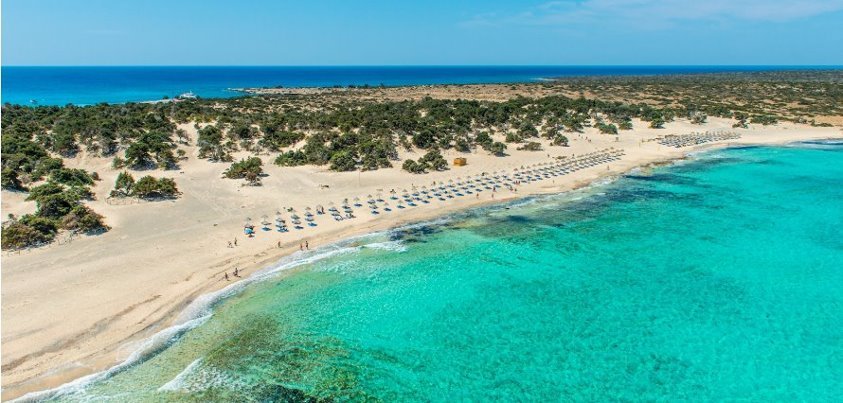 Read also: All beaches in Lasithi, Ierapetra, hotels in Ierapetra, Must See in Ierapetra, Vai palm tree beach.